| | |
| --- | --- |
| Genre | rock n roll, rockabilly, female vocalists, piano, guitar |
Mary Joan Okum (née Kath; October 27, 1924 – December 8, 2015), known by her performing name Bonnie Lou, was an American musical pioneer, recognized as one of first female rock and roll singers. She is also one of the first artists to gain crossover success from country music to rock and roll. She was the "top name" on the first country music program regularly broadcast on a national TV network. Bonnie Lou was one of the first female co-hosts of a successful syndicated television talk show, and a regular musical performer on popular shows in the 1960s and 1970s. She "was a prime mover in the first days of rockabilly," and is a member of the Rockabilly Hall of Fame.
Bonnie Lou's real name is Mary Jo Kath, and she was born in 1924 in Illinois. Mary grew up listening to Patsy Montana and her band "The Prairie Ramblers", and was greatly inspired by her. Mary learned how to yodel, which was from the help of her Swiss grandmother. As a child she learned how to play two instruments, the violin and guitar. By the young age of 16, she was singing and performing on a local radio show in Bloomington, Illinois. By age 18, Mary went on a bigger radio show, which aired in Kansas City, Missouri. Her exposure on this radio show in Kansas City, helped her land a job as a singer on WLW Radio in Cincinnati, Ohio, where station executive Bill McCluskey hired Mary as a singer a yodeler for his radio show called Midwestern Hayride Country & Western Radio Program. McCluskey was the one who gave Mary Jo the stage name she would be known by for the rest of her life, "Bonnie Lou". While on the radio show in Cincinnati, Lou performed regularly with Country Music girl group the Girls of the Golden West, which Lou listened to as a child.
Bonnie Lou continued radio performances until the end of the 1940s. Her radio performances were even cut to acetate and released to the public. However, Bonnie Lou never truly broke as a recording artist until the 1950s.
Country and rock and roll star in the 1950s
In 1953, Lou signed on with her first record company called King Records in Cincinnati, Ohio. In the beginning stages of her recording career, Lou recorded Country Music material and released it. Bonnie soon had big Country Music hits with "Tennessee Wig Walk" and "Seven Lonely Days". Both songs were Top 10 country hits. The flip side of her hit "Seven Lonely Days" featured the song "Just Out of Reach", which would later be covered by other Country singers, like Patsy Cline, Billie Jo Spears, Jean Shepard, and k.d. Lang.
Soon, Bonnie started recording rockabilly or rock and roll. In 1954, she recorded the song "Two-Step Side-Step", which was written by Murry Wilson, who is the father of The Beach Boys, Carl, Brian, and Dennis. In 1955, she released her first rock and roll record called "Daddy-O". The song was a Top 15 pop hit that year, and turned Lou into a rock and roll star overnight.
The song was later covered by The Fontane Sisters on the Dot Records label. It wasn't until 1958 though that Bonnie had another hit, this a duet with Rusty York called "La Dee Dah". They soon reorded a Teen Pop song together called "I Let the School Bell Ding-a-Ling". Soon, Lou left the King label for another Cincinnati record label called Fraternity. She released several different singles for Fraternity, one of which were as successful as her singles for the King label.
Later career and personal life today
Bonnie spent more and more of her later career on television, co-hosting the Paul Dixon Show in Cincinnati. But in keeping faithful to her Country Music roots, she also became a regular on WLWT's Midwestern Hayride, (a show inspired by the legendary Shreveport-based Louisiana Hayride) until it went off the air in the early 70s. Bonnie Lou also appeared on the Ruth Lyon's 50-50 Club, a local show produced in Cincinnati, Ohio.
In 2000, the CD, Bonnie Lou - Doin' the Tennessee Walk - The Best of the King Years was released, featuring all of her big hits under King Records.
Bonnie Lou died in her sleep on the morning of December 8, 2015 at Hillebrand Nursing And Rehabilitation Center in Cincinnati, Ohio.
Source
Top Tracks
1
Tennessee Wig Walk
2
Seven Lonely Days 3
Friction Heat
4
Daddy-O
5
Little Miss Bobby Sox
6
Tweedle Dee
7
Train Whistle Blues
8
Two Step Side Step
9
Tenessee Wig Walk
10
Dancing In My Socks
Top Albums
Doin' the Tennessee Wig Walk
tracks
The Original Sound Of Country 1953
tracks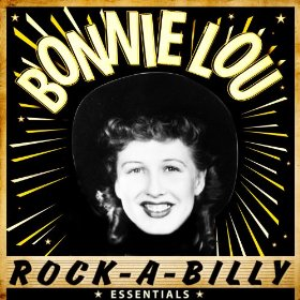 Rock-a-Billy Essentials
tracks