| | |
| --- | --- |
| Genre | country, 80s country, country pop, 80s, female vocalists |
Deborah Allen (born Deborah Lynn Thurmond on September 30, 1953 in Memphis, Tennessee), is an American country music singer-songwriter, guitarist and pianist. She is best-known for her smooth Country Pop-styled hits of the early 1980s. Her best known recording is the crossover hit "Baby I Lied".
Early Life & Rise to Fame
Allen was born Deborah Lynn Thurmond in Memphis, Tennessee and was strongly influenced by Patsy Cline. It was at the young age of 17, that Allen decided to pursue a country music career, and she then moved to Nashville, Tennessee, the hometown of Country music. Here, she followed the basic tradition of what most rising country stars did, and became a waitress at the local IHOP restaurant. While working here, she met Roy Orbison. Orbison liked Allen's voice, and he decided to hire Allen as a background singer. She also worked at the Opryland theme park. She soon landed a gig as a singer and dancer in Tennessee Ernie Ford's tour. It was soon evident that Allen wanted to pursue a solo career.
Allen finally got the chance to pursue a singing career in her own right. She served as an opening act for Jim Stafford. In 1979, Allen was handpicked by Jim Reeves' wife to sing on some of Reeves' unfinished duet tracks. These songs were "Don't Let Me Cross Over", "Oh, How I Miss You Tonight", and "Take Me In Your Arms and Hold Me". All three songs were released as singles for Reeves' old record company, RCA Records. "Take Me In Your Arms and Hold Me" proved to be a hit single for Allen, going all the way to #10 on the Country charts in early 1980.
The Height of Her Career In the Early 80s
In 1980, Allen was able to sign with Capitol Records. Her debut album under the label was 1980's Trouble in Paradise. Although the album wasn't too much of a success, the album did produce some minor hits for Allen, including "Nobody's Fool" and "You Make Me Wonder Why". "You Make Me Wonder Why" was Allen's highest charting single from the album, peaking at #20. She released a couple of other unsuccessful singles, including "You Look Like the One I Love" and "After Tonight". "After Tonight" only peaked at #82 on the Country charts in 1982.
Allen soon switched record companies after finding no success under Capitol. In 1983, she moved over to RCA Records, where she ended up having her biggest success.
It all started with releasing the album Cheat the Night in 1983. The first single released from the album came the same year with her signature song, "Baby I Lied." On the Country charts, it was a Top 5 hit, peaking at #4. It was also a Pop chart crossover, reaching #26 on the Billboard Hot 100 in January 1984. It even went as far to become a hit on the Adult Contemporary charts. Overnight, Allen was turned into a major Country Music star, from waiting tables in Nashville, to performing at the Grand Ole Opry. Allen followed up the success of her crossover hit quite well with the Country hit "I've Been Wrong Before," which just missed topping the Country charts in the spring of 1984. Later that year, "I Hurt For You," also from Allen's breakthrough album, became her most recent top 10 country hit, reaching #10. All her hits were co-written by Allen and her husband Rafe Van Hoy, a rarity for Country Pop-styled singers. In 1984, the two continued their collaboration together, with the song "Let Me Be There First", which used electronic instrumentation. In 1984, Allen also had a minor hit with the song "Heartache and a Half".
In 1987, Allen released a single penned by the legendary singer Prince called "Telepathy". An album of the same name was also released, which showed even more electronic instrumentation. All this experimenting with electronic instrumentation led to Allen's fans lessening, and soon enough she was alienated from her Country audience. After the release of the 1987 single "You're the Kind of Trouble", RCA Records dropped Allen from the label.
Comeback & Life Today
Soon, Allen was left without a recording contract, with no way to make a living. However, Allen and Van Hoy were able to write as songwriters. Together they penned the Janie Fricke hit "Don't Worry 'Bout Me Baby" and also the Tanya Tucker hit "Can I See You Tonight", among other hits.
However, during her free time, Allen was putting together a comeback album called Delta Dreamland. She used her own time and her own money to put together the album. Soon, however, she was able to make a deal with Giant Records to release the album under their label in 1993. That same year, she had a Top 30 hit from the album with the song "Rock Me (In the Cradle of Love)". She also had one other charting single from the album. The album showed Allen as a new person, with a more sexier image and a bluesy new style. Her 1994 album, All That I Am, ended up being the same result. Since the release of her two albums, Allen remained a popular songwriter in Nashville.
Discography
Albums
Year Title US Country US 200
1980 Trouble in Paradise
1983 Cheat the Night 10 67
1984 Let Me Be There First 52
1987 Telepathy
1993 Delta Dreamland 55
1994 All That I Am
1998 Anthology
2000 The Best of Deborah Allen
Singles
Year Title US Country Album
1976 "Do You Copy" single only
1979 "Don't Let Me Cross Over" (w/ Jim Reeves) 10 Don't Let Me Cross Over
"Oh, How I Miss You Tonight" (w/ Jim Reeves) 6
1980 "Take Me in Your Arms and Hold Me" (w/ Jim Reeves) 10
"Nobody's Fool" 24 Trouble in Paradise
1981 "You (Make Me Wonder Why)" 20 single only
"Next to You" Trouble in Paradise
1982 "You Look Like (The One I Love)" 33 singles only
"After Tonight" 82
"Don't Stop Lovin' Me" Trouble in Paradise
1983 "Baby I Lied"A 4 Cheat the Night
1984 "I've Been Wrong Before" 2
"I Hurt for You" 10
"Rockin' Little Christmas"
"Heartache and a Half" 23 Let Me Be There First
1987 "Telepathy" Telepathy
"You're the Kind of Trouble"
1992 "Rock Me (in the Cradle of Love)" 29 Delta Dreamland
1993 "If You're Not Gonna Love Me" 44
"All The Loving and Hurting Too"
1994 "Break These Chains" 66 All That I Am
1999 "Is It Love Yet" The Best of Deborah Allen
APeaked at #26 on Billboard Hot 100 and #10 on Hot Adult Contemporary Tracks chart.
External links
Official Deborah Allen Website
Authorized Deborah Allen Baby I Lied Home Page, Founded 1998
Retrieved from "http://en.wikipedia.org/wiki/Deborah_Allen"
Source
Top Tracks
1
Baby I Lied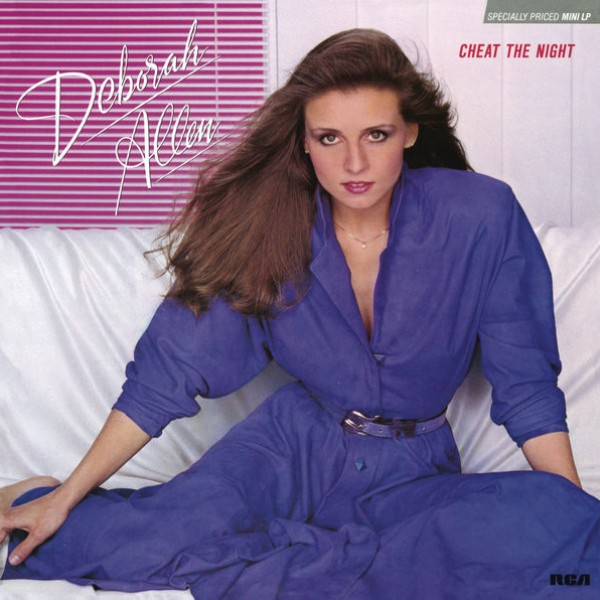 2
I've Been Wrong Before
3
I Hurt for You
4
Blame It on Your Heart
5
Rock Me (In the Cradle of Love)
6
I will always love you
7
Break These Chains
8
If You're Not Gonna Love Me
9
Telepathy
10
Ready and Waiting
Top Albums
That Good Old Gospel Music, Volume 1
tracks
Nashville Country Gals, Volume 2
tracks
Nashville Country Gals, Volume 1
tracks