| | |
| --- | --- |
| Genre | jazz, female vocalists, swing, oldies, jazz vocal |
Dinah Shore (born Frances Rose Shore February 29, 1916 - February 24, 1994) was an American singer and actress. She was most popular during the Big Band era of the 1940s and 1950s. She became one of the popular "girl singers" from that era. She enjoyed a string of popular hits and afterwards became a successful actress for a number of years, being compared to such singers as Doris Day. She also made regular appearances on early television, and hosted several series of her own.
Childhood and rise to success
Born to Solomon and Anna Stein Shore, Jewish immigrants from Russia, she lived in Winchester, Tennessee. When she was two years old, she was stricken with polio (infantile paralysis), a disease that was not handled well at the time. Thankfully, her parents cared enough to provide intensive care for her, and she recovered and overcame the disease. However, she suffered from having a slightly deformed foot and limp, which did not physically impede her. She performed at a night club when she was only 14 years old.
When her mother died unexpectedly of a heart attack, Dinah went to Vanderbilt University, where she participated in many events and activities. She graduated from the university in 1938. She decided to get back into pursuing her career in singing, so she went to New York to audition for orchestras and radio stations. In many of her auditions, she sang the popular song "Dinah." When disc jockey Martin Block could not remember her name, he called her the "Dinah girl," and soon after the name stuck, becoming her stage name. She eventually was hired as a vocalist at radio station WNEW, where she sang with Frank Sinatra. She also recorded and performed with the Xavier Cugat orchestra. Eventually, she got her recording contract with RCA Victor records in 1940.
Career in the 1940s and 1950s
While recording on RCA Victor's Bluebird label, she released her first recording, "Yes, My Darling Daughter" and it became a major hit for her. Dinah's singing came to the attention of Eddie Cantor, and he signed her as a regular on his popular radio show, "Time to Smile", in 1940. Dinah credits him for teaching her self-confidence, comedic timing and the ways of connecting with an audience.
She was a featured vocalist on The Chamber Music Society of Lower Basin Street and soon became a successful radio and music star with her own radio show in 1943, "Call to Music". Also in 1943, she appeared in her first movie, "Thank Your Lucky Stars". The movie starred Eddie Cantor, and she soon went to another radio show, "Paul Whiteman Presents". During this time, America had been actively involved in World War 2 and Dinah became a popular favorite with the troops, similar to the popularity of Bing Crosby. She was having major record hits, like "I will Walk Alone" and "Blues In the Night", one of her first of many number-one hits to come.
To support the troops overseas, who adored her singing, she participated in USO tours to Europe. She met a young actor ready to go into military service named George Montgomery. They married on December 3, 1943. Despite their marriage, Montgomery soon went into service. When he returned from the service, they settled in San Fernando, California. In 1948, their first child was born, a daughter named Messina, and they also adopted a son in 1954 named John David and then moved to Beverly Hills.
Dinah continued appearing in radio shows throughout the 1940s. She performed in radio shows like "Birds Eye-Open House" and "Ford Radio Show". One of her most popular recordings was "Baby It's Cold Outside" with Buddy Clark. The song was covered by many other artists, Ella Fitzgerald for example. Other hits followed this success like "Buttons and Bows" and "The Gypsy". She was a regular with Jack Smith on his radio show on CBS, which ran for 15 minutes. She went into many more movies. As an actress, Shore appeared in many musical films, such as "Belle of the Yukon" and "Up in Arms" (both in 1944), and "Till the Clouds Roll By" (1946). She was also featured in numerous TV movies and series. She lent her musical voice to two Disney films: "Make Mine Music" (1946) and "Fun and Fancy Free" (1947). In early 1946, she moved to another label, Columbia Records. In 1950 she made her television show debut on "The Ed Wynn Show" and also made a guest appearance on Bob Hope's first television show. After being on many other people's television shows, she got her own, "The Dinah Shore Show" in 1951. She did two fifteen minute shows a week for NBC. She won her first Emmy for the show in 1955. The show was sponsored by Chevrolet automobiles. The sponsor's theme song ("See the USA in your Chevrolet") became the singer's signature piece. She continued to appear in Chevrolet advertising through the 1950s.
Later career
From 1970 through 1980, Shore hosted two daytime programs, "Dinah's Place" (1970-1974) on NBC and "Dinah!" (later "Dinah and Friends") in syndication from 1974 through 1980. On her show "Dinah!", she once had the misfortune of interviewing the comedian Andy Kaufman in his Tony Clifton guise. He took deliberate offense at her questions and eventually tipped a pan of eggs over her head. This happened live on the air in front of a huge TV audience and Shore's producers cut to an impromptu commercial as Kaufman was escorted out of the studio.
TV screenshot image
Shore, with her Dixie drawl and demure manner, was always identified with the South, and guests on her shows often commented on it.
Shore won nine Emmys, a Peabody Award and a Golden Globe.
Shore guest starred on "Pee-wee's Playhouse Christmas Special", calling Pee-wee on his picturephone and singing "The 12 Days of Christmas". Throughout the special, Pee-wee walks past the picture phone, only to hear her going past the original 12 days ("…on the 500th day of Christmas…")
Personal life
Shore was married to actor George Montgomery from 1943 to 1962 and had a daughter, Melissa Ann (known today as Melissa Montgomery-Hime, executor of the Dinah Shore Trust and the owner of the rights to most of Shore's television series). Shore later adopted a son, John David 'Jody' Montgomery. After her divorce from Montgomery, she briefly married Maurice Smith. In the early 1970s, Shore had a long and happy public romance with actor Burt Reynolds, who was 20 years her junior. The relationship gave Shore an updated, sexy image, and took some of the pressure off Reynolds in maintaining his image as a ladies' man.
Death and legacy
Dinah Shore died in Beverly Hills, California of ovarian cancer at age 77 (5 days before her 78th birthday). Her ashes were divided and she has two burial sites. Half were interred in the Hillside Memorial Park Cemetery in Culver City, California and the other half interred at Forest Lawn Cemetery (Cathedral City) near her beloved second home in Palm Springs, California.
Shore's legacy resonates posthumously, with a 1998 album featuring the arrangement skills of Andre Previn combined with the re-releasing of some of her classic recordings like 'April in Paris', and 'My Funny Valentine', garnering moderate success.
Source
Top Tracks
1
Buttons and Bows 2
It Had to be You
3
Blues in the Night
4
I've Got You Under My Skin
5
April in Paris
6
My Funny Valentine
7
The Man I Love
8
I'll Walk Alone 9
You'd Be so Nice to Come Home To
10
Doin' What Comes Natur'lly
Top Albums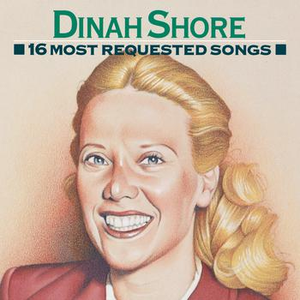 16 Most Requested Songs
tracks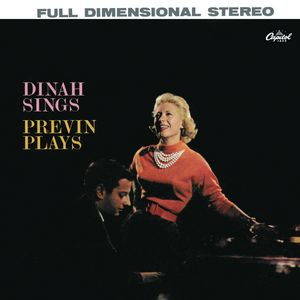 Dinah Sings, Previn Plays
tracks