| | |
| --- | --- |
| Genre | norwegian, Eurovision, Norway, folk, singer-songwriter |
Finn Kalvik (born 30 April 1947) is a Norwegian singer, poet and composer.
Born in Fåvang in Oppland, Kalvik participated in the Eurovision Song Contest in 1981. He sang Aldri i livet (Never in my life). The song, a ballad, received zero points. Despite this bad result, Kalvik continues to sing in his country with great success.
Collaborated alot with Inger Hagerup, a norwegian lyric poet.
Kalvik moved to the working class district of Grorud, Oslo where he grew up. Early in his career Kalvik found success putting music to the poetry of popular Norwegian writers André Bjerke and Inger Hagerup. He won the Norwegian Melodi Grand Prix in 1981 with his song "Aldri i livet" (Never in my life). However his performance in the European finals ended with an infamous zero points. The song was still a big success in Norway, and was even recorded in English as "Here in My Heart" with backing vocals by ABBA's Agnetha Fältskog and Annifrid Lyngstad. He returned to Eurovision once more in 1987 when he sang his song "Malene" to a fourth place in the Norwegian selection. The song was dedicated to his daughter.
Kalvik has continued to be one of the most prominent folk singer/songwriters in his native Norway, also enjoying success in neighbouring Sweden. Since the 1970s he has worked with friend and ABBA-member/composer Benny Andersson on several productions, most notably recording two albums with Andersson at the height of ABBA's fame (1979's Kom ut kom fram and 1981's Natt og dag). In 2000 Kalvik also scored a hit with a version of Andersson's song Tröstevisa, performed as a duet with Swedish singer CajsaStina Åkerström.
Kalvik is also an avid painter.
Discography:
Finne meg sjæl (1969)
Fyll mine seil (1976)
Kom ut kom fram (1979)
Natt og Dag (1981)
Det søte liv (1984)
Livets lyse side (1988)
Innsida ut (1991)
I egne hender (1995)
Imellom to evigheter (2000)
Klassisk Kalvik (2002)
Dagdrivernotater (2004)
Eurovision Song Contest 1981 - Dublin
Entry for Norway
Performer: Finn Kalvik
Song title: Aldri I Livet
Song writer(s):
Song composer(s): Finn Kalvik
Sang in Position: 13
Final Position: 20
Total Points: 0
For the second time, the Eurovision champion winner, Ireland, was the host for the event which took place in Dublin. In 1981, the total amount of participating countries was 20 once again equalling the record set three years earlier in Paris. Morocco withdrew after their first participation, and Italy decided to stay at home as well because the interest in the country had diminished.
Yugoslavia returned to the contest after five years of absence, so did Israel after the county had missed out on one contest. Finally, Cyprus made its Eurovision debut. It was also the first year Egypt's television viewers could follow the contest live on television.
The opening sequence of the 1981 Eurovision Song Contest showed 'old Ireland' blending into 'modern Ireland' with shots of Celtic ruins, cliffs, castles, edited together with close-ups of art and shots of planes, waterfalls, people in the park, children feeding birds, traditional door knockers, front doors, architecture and horse races. The sequence ended with a map of Europe on a globe which span round to reveal the Eurovision logo.
The United Kingdom's entry Making Your Mind Up by the group Bucks Fizz won the 1981 contest after a close race with Germany's entry Johnny Blue by Lena Valaitis. Bucks Fizz was specially formed for the Eurovision Song Contest and had created a memorable show act when the 2 guys in the group ripped off the skirts of the 2 girls, revealing a shorter skirt underneath. To date, it is seen by many as one of the most memorable moments in the history of the Eurovision Song Contest. Bucks Fizz continued their career all over Europe with many hitsongs during the 1980s, like The Land Of Make Believe and My Camera Never Lies.
Source
Top Tracks
1
Aldri i livet 2
Lille vakre Anna
3
Livets lyse side
4
Ride Ranke
5
En Tur Rundt I Byen
6
Barndommens Jul
7
Sommerøya
8
Finne Meg Sjæl
9
Ride Ranke (Cats in the cradle)
10
Fyll mine sejl
Top Albums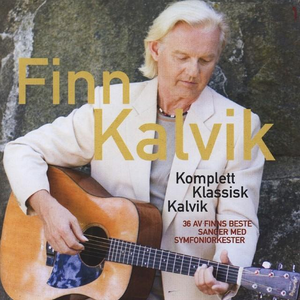 Komplett Klassisk Kalvik
tracks
Imellom to evigheter
tracks