| | |
| --- | --- |
| Genre | oldies, indie, british, folk, folk rock |
GARY MILLER (1)
Gary Miller born Neville Williams (1924 - 15 June 1968) was an English popular music singer and actor of the 1950s and 1960s. His career spanned only 13 years before he died of a heart attack in 1968. He released 24 singles and six EPs on the Pye Records label between 1955 and 1967. Pye released a further compilation EP after his death.
Miller had several Top 40 singles early in his career, his debut single, "Yellow Rose Of Texas" reaching #13 on the UK Singles Chart. The most successful was "Robin Hood" (the theme to The Adventures of Robin Hood) which spent 28 weeks in the chart and peaked at #10, his only Top 10 hit.
Miller had a number of small acting roles in the television series The Saint and Gideon's Way, and was a regular panelist on Juke Box Jury. He provided the singing voice for Troy Tempest in the Gerry Anderson series Stingray and recorded "Aqua Marina", the end titles theme for the series. He also recorded vocals for two different versions of an ultimately-unused end titles theme for Thunderbirds. The song was later re-worked as "Flying High" for the episode Richochet; one of the original two versions appears on the Thunderbirds 2 compilation album.
Miller appeared on stage in the 1964 production of She Loves Me at the Lyric Theatre and on the cast album of that production. He also began appearing in the musical Come Spy with Me with Danny La Rue and Barbara Windsor, shortly before his death. He died shortly before production finished on an episode of The Saint, The People Importers, in which he was also playing a key part. The series' Associate Producer, Johnny Goodman, later remarked that Miller was "working night and day" as a consequence of his twin commitments, and that production on the Saint episode had to be completed with a double in place of the late actor.
Selected Discography
Singles
1955 "The Yellow Rose of Texas" (Nixa - UK Singles Chart #13)
1956 "Robin Hood" (Nixa - UK Singles Chart #10)
1957 "Garden of Eden" (Pye Nixa - UK Singles Chart #14)
1957 "Wonderful, Wonderful" (Pye Nixa - UK Singles Chart #29)
1958 "The Story of My Life" (Pye Nixa - UK Singles Chart #14)
1961 "There Goes That Song Again" / "The Night is Young (And You're so Beautiful)" (Pye - UK Singles Chart #29)
GARY MILLER (2)
www.garymillersongs.com
"As a song poet, there are few in the world today to match him" - Green Man Review, USA
Internationally acclaimed songwriter, performer and recording artist Gary Miller was born in Durham in the North East of England in 1966 and raised in Sherburn Village, a small ex-mining community 3 miles east of Durham City.
He founded British folk-rock cult-legends The Whisky Priests (1985-2002) at the age of 19 with his accordionist twin brother Glenn - "the Joe Strummer & Mick Jones of folk music" - rising to international prominence during the mid eighties and throughout the nineties as principal songwriter, lead singer, guitarist & mandolin player with The Whisky Priests.
He simultaneously and successfully co-managed the band's entire business affairs with his twin brother Glenn and together they founded their own independent record label Whippet Records, in 1988, for releasing The Whisky Priests and related recordings worldwide.
The Whisky Priests released a string of internationally acclaimed albums but were particularly renowned worldwide for their incredible live shows:
"A Whisky Priests show is the sort of stuff to make your hair curl; honest, earthy, loud, raucous and tremendously uplifting" (Folk Roots, UK)
When the twin brothers decided to end The Whisky Priests in 2002 for personal reasons, Gary retired from live performance and professional recording due to what became a long-term illness lasting six years but continued working in the music industry, for example, as an agent at Adastra ("the UK's largest Folk, Roots & World Music Agency"); as a music industry tutor; on a variety of projects in collaboration with other artists; as a commissioned songwriter; and as a qualified and experienced community arts practitioner, developing and working on a wide variety of community projects through the UK as a musical director and workshop leader.
Now, in 2010, following his self-imposed sabbatical from performing and recording due to long-term illness, this persevering and highly innovative artist has stepped out of the shadows and returned from the wilderness with the release of Reflections on War, his highly anticipated and landmark ground-breaking debut solo album and first CD of all new material in 10 years.
GARY MILLER 'BOLD AS BRASS' official promo video on You Tube
Solo, with his new band 'Gary Miller & The Volunteers', and in collaboration with other artists, he will be touring internationally throughout 2010 and beyond - Look out for the Gary Miller & The Volunteers 'Reflections on War' Tour in 2011!
GARY MILLER & THE VOLUNTEERS 'TWA SCOTS SOLDIERS' (live) on You Tube
ALBUM RELEASES (all on Whippet Records):
Nee Gud Luck - The Whisky Priests - 1989 (reissued 1994)
The First Few Drops - The Whisky Priests - 1991 (re-issued 1994)
Timeless Street - The Whisky Priests - 1992 (re-issued 1994)
Bloody Well Live! - The Whisky Priests - 1993
The Power and The Glory - The Whisky Priests - 1994
Bleeding Sketches - The Whisky Priests - 1995
Life's Tapestry - The Whisky Priests - 1996
Think Positive! - The Whisky Priests - 1998
Live on Radio Heemskerk - The Whisky Priests - 1998
A Few Drops More - The Whisky Priests - 1999
"Here Come The Ranting Lads!" - Live! - The Whisky Priests - 1999
Going Down With Alice - Mad Dogs and Englishmen - 2000
Bloody Well Live! Special Edition! - The Whisky Priests - 2000
Stand Fast Stand Steady - Gary Miller & Ralf Weihrauch - 2005
Reflections on War - Gary Miller - 2010
"Miller actually writes great songs with words that mean something and are usually substantially rooted. His ability as a songwriter who captures folk sentiment and communal memory must now be unquestioned" - Folk Roots, UK
"A writer of cleverly composed mini-epics. Gary Miller has managed to produce some excellent images of life in the past and the present day" - Rock 'N' Reel, UK
"Miller has the glorious knack of penning irresistible choruses with a lyrical depth beyond the norm and a strong commercial ear, his worth as a composer ought to be worth its weight in gold" - Folk on Tap, UK
"One of the most literate and insightful songwriters in the world of folk-rock; his writing has always been exemplary. He touches on every level of human emotion. And his melodies are equally as brilliant as his prose." - All Music Guide, USA
"One of the best lyricists of our time" – Backline, UK
"Miller has an enviable range" – Musician, UK
"Forceful biting lyrics. In years to come (his) songs will be documents of our social history" – Folktalk, UK
"Cracking songs which show a good eye for gritty and earthy reality. Images, sympathies and genuine true life are painted with such a vast range of colours – why hasn't Gary brought out a book of poetry?" - The Modern Dance, UK
"A fine songwriter, offering skillfully drawn portraits of characters and life" – Outlook, UK
"The feel of Gary Miller's lyrics carries traditional sensibilities. His original lyrics are as appealing as the melodies to which they're set" - Dirty Linen, USA
"The songs of Gary Miller are modern folk music, no less" - Folk On Tap, UK
"Words with powerful imagery by a powerful wordsmith. He has the ability to draw on aspects of his own experience and adapt and develop these into strong story lines - these are songs to identify with. His eloquant and impassioned delivery speaks to the lost innocent in us all. I'd like to hear a range of singers tackling Gary's great songs" - Folk Buzz, UK
Gary Miller Web Links:
Official Website
Facebook
My Space
Twitter
Reverb Nation
Source
Top Tracks 1
Robin Hood
2
The Yellow Rose of Texas
3
The Story of My Life
4
The Garden of Eden
5
Stingray
6
Aqua Marina
7
There Goes That Song Again 8
Yoda In Sherwood Forest
9
Jezebel
10
Since I Met You Baby
Top Albums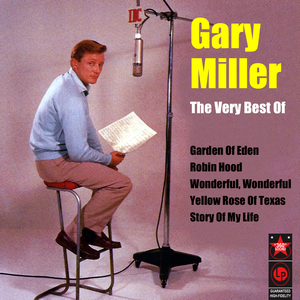 Early Productions '55-'58
tracks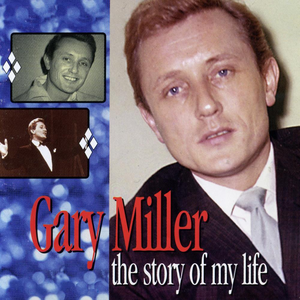 The Story Of My Life: The Pye Anthology
tracks