| | |
| --- | --- |
| Genre | electronic, techno, dance, 90s, House |
I played in bars for 1 year crap money but loved it: 1982 left for Jersey where I promoted big parties and played crap music which was great fun and made more cash than my dad.
1983 Left to America to do music but ended up doing only 2 Gigs in 3 years. However in San Francisco I worked for a chauffer company at night and painted sky scrapers day. All Americans loved my English accent and I got all my painting contracts for clients in belvedere.
Made a million but not from music. Left in 1986. Gave my house car, bike and dosh to my partner and friend Gaza; he thought I was mad but I said "I came here to do music not run 2 companies. I've had the time of my life but music is my heart and London is where I need to be… If I go to London with this cash I will not do music."
Took 1 grand and left to seek fame in the City Lights of London town.
Played in bars and set up a music agency called A-Z.
I took 10% from acts and 15% from bars, advertised in all pub magazines and rented me and mad Mick the sax player to all my best gigs with the best cash. This was an instant success. I had 120 acts and great access to the music industry in and around London…
I created a user friendly computer program that listed all types of acts, calendar availability, price and made telephone bookings instant.
Pub gigs were great they were packed everywhere; one day at a crowed bar in Croyden someone threw a pill in my mouth and said "now play the House of the Rising Sun". This put zing and a new excitement into the pubs.
All my pub gigs changed, all the classic pub tunes were modified accordingly, the crowd loved it. Mad Mick the Sax was excellent. Although I had to drive the van everywhere, pick Mick or scrape him up from every superb gig and be sensible, I loved it that way.
Also at the same time I set up a rock band called Joshua Cries Wolf and played all over London we had a huge following won the Nescafe Best British band contest but this was 89, dance music had taken off and we were in the wrong era.
I told the band I was leaving and started to go huge illegal parties like world dance that had 20,000 nutters dancing in a field.
I hooked up with Adamski and Seal and played KBDs. For a bit we played as a group but Seal and Adams ego's were too much.
I thought, I could do this alone, wrote a set, called myself Guru Josh and played in front of up to 25,000 people for a measly 50 quid a night. Sunrise, World party, Biology all of them I played, I was the man… They loved it.
Steve a promoter and friend promoted a rave called Infinity. He financed a white label called Infinity to promote his gig. 1000 were printed, 500 for him, the remainder I gave to DJs which were briskly thrown in the bin. They said Josh, its got sax, its crap. However One DJ called Mike Pickering, resident at the coolest club in the land, the Hacienda Manchester played it and became the anthem of Manchester.
I was now fashionable and cool, my record was duly retrieved from all bins and became the anthem of 89; an underground smash was born. It was funny how all the DJ's said they supported me. Fashion is so funny. But that is what makes fashion, having the balls to stick your neck out. To create Fashion is not to be fashionable!.
3 weeks later 5 majors were bidding ridiculous money. I eventually signed to Deconstruction (BMG) for 250,000 pounds and EMI publishing for 300,000 pounds. My world changed. I now signed on the dole with bodyguards. Incredible, my turbo range rover parked outside the dole office signing autographs for the unemployed was a sight, I couldn't understand it, the woman behind the desk gave me my 70 quid said I was great on Top of the Pops last night. Signing her shirt I decided, it was time to sign off.
Infinity sold 3 million, the second single 2.5 million the album 900,000. I was the biggest dance star in the world. My records charted in every country in the world, gold 8 counties platinum Germany, Christ I had 3 minders, Michael Jackson's tour coach and bought a house, cash in Chiswick.
Meanwhile Mick had lossed the plot overdosing on champagne and everything else placed in front of him; in the middle of a sell out Japanese tour he hooked up with Prince's ex; after 5 years together he gave me 1 hours notice and left to eat sushi with a bimbo!
I found another sax player not as good as Mick and toured the world for another year.
Computer graphics took my fancy. I thought why not mix computer graphics to music and sell them as a visual album. There was no market. Woolworth's and HMV said if you sell 2 thousand that's good. Visual videos do not sell.
Despite no market I believed this was the next big thing and put my money over 150 grand into digital video equipment, computers. I took 15 unemployed computer kids on the street, converted the 2nd and third floor into visual design studios and spent the next 9 Months creating a 50 min video called Dr devious and the Wisemen, VR Dance in cyberspace, I was DR Devious but no one knew, the only hint was the company, GJ productions.
That video sold 220,000 copies, set a world trend; Dr Devious was the coolest character in the world, and no one knew who he was.
I then spent nearly 1 million pounds converting a 5000 foot warehouse and telling the world that Dr devious was Guru Josh. It was decked out with all the mod cons. 4 More Dr devious videos were created, VR2 More Dance in cyberspace, VR3, VR4 and Lost in silly space all were hits. EMI got involved. This monster was out of control, we did videos for MTV and all the biggest dance acts;
So I Travelled Europe with 2 mates. It was great to be on the road away from all the bullshit. We did dance parties all around Europe under the name Guru Josh live and direct. I painted the Porsche, RV and everything else in Arctic camo and, what with 2 transvestite dwarfs on the top of my camouflaged Porsche the parties never failed. They were great. After 1 year I decided to go to Ibiza to show the world my new show.
Arrived Ibiza and stayed in camping Florida Es Cana. We did a weekly show at the then Kaos now Eden. Even though the parties attracted a sell out crowd every week from Guru Josh fans around the world they were not hugely profitable because of the huge show expenses.
After 2 years at Kaos it was changed. I then continued to play every year at venues such as Kiss, Es Paradis, Plastic, Atlantico, Privelige and Amnesia all to sell out crowds.
Also I brought a great apartment in Port Olympic Barcelona and commuted a lot. In the winter I snow boarded in Andorra only 1 hours drive. I loved Barcelona but Ibiza more. Sold the pad and lived on the camp site for 5 years.
Boy what an adventure. You meet real people there, it was the happiest time of my life.
In addition to the Guru Josh Gigs, I Bought a Para Motor and parachute and set up an Arial company doing Ariel photographs. Also I flew around San Antonio, with banners attached to my legs promoting the big clubs.
This was successful and made good money but after 3 accidents the most serious, falling out of the sky in Satogrande Spain, I decided to keep my feet on the ground and hung up my parachute. And concentrate on making music.
However in addition to writing and doing shows every week I created water fountains with glass tiles that everyone loved and bought a restaurant called La Parra in Santa Eulalia and made it into a restaurant exhibiting all these fountains.
I then created a new form of art called illuminated glass art under them name Louie Fabrix. This time I made sure that everyone knew it was guru josh behind this and all exhibitions sold out. I didn't realize how popular Guru Josh was around the world.
Infinity has become one of the most remixed records of all time released every year. In 2007 Bernd at Big Vity Beats Records, a great fan of Guru Josh and Infinity, signed him as sole licensor and Guru Josh called this new project the Guru Josh Project and got his friend Dj Darren Baillie (responsible for the deal) and Anders Nyman puppet creator and producer extraordinaire to participate in this project.
In 2008 infinity became the biggest dance track of the year and to everyone's surprise still had chart success in 2011.
2012 and with a huge amount of new and unreleased material Infinity 2012 by Guru Josh is about to be released as a precursor to the tracks to follow.
Source
Top Tracks
1
Infinity
2
Infinity 2012 - DJ Antoine vs Mad Mark Radio Edit
3
Ray of Sunshine
4
Infinity 2012
5
Infinity 2008
6
Whose Law (is it anyway)
7
Popcorn
8
Warehouse Requiem
9
Lift Up Your Arms
10
The Wanderer
Top Albums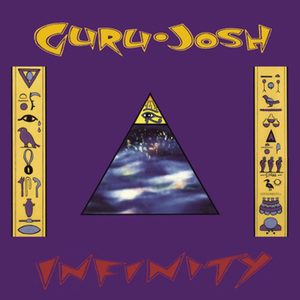 100 Hits Of The '90s
tracks