| | |
| --- | --- |
| Genre | jazz, swing, vocal jazz, male vocalists, jazz vocal |
Melvin Howard Tormé (1925–1999) was born to immigrant Russian Jewish parents whose name had been Torma. A child prodigy, he first sang professionally at 4 with the Coon-Sanders Orchestra, singing "You're Driving Me Crazy," at Chicago's Blackhawk restaurant. 1933-41, he acted in the network radio serials "The Romance of Helen Trent" and "Jack Armstrong, the All-American Boy." He wrote his first song at 13 and three years later, his first published song, "Lament to Love," became a hit recording for Harry James. He played drums in Chicago's Shakespeare Elementary School drum and bugle corps in his early teens. While a teen-ager, he sang, arranged, and played drums in a band led by Chico Marx of the Marx Brothers. His formal education ended in 1944, with his graduation from Chicago's Hyde Park High School.
In 1943, Torme made his movie debut in Frank Sinatra's first film, the musical "Higher and Higher." He went on to sing and act in a number of films and television episodes throughout his career, even hosting his own television show in 1951-52. His appearance in the 1947 film musical "Good News" made him a teen idol for a few years. In the last years of his career he toured and sang with the wonderful George Shearing Quartet, often sitting in at drums, for a number or two in a set. To hear two such accomplished jazz artists was an evening not to be forgotten.
In that year he also formed the vocal quintet "Mel Torme and His Mel-Tones," modeled after Frank Sinatra and the Pied Pipers. The Mel-Tones, which included Les Baxter and Ginny O'Connor, had several hits fronting Artie Shaw's band and on their own, including Cole Porter's "What is This Thing Called Love?" The Mel-Tones were among the first jazz-influenced vocal groups, blazing a path later followed by The Hi-Los, The Four Freshmen, and The Manhattan Transfer.
In 1947, Torme went solo. His singing at New York's Copacabana led a local DJ, Fred Robbins, to give him the nickname "The Velvet Fog", thinking to honor his high tenor and smooth vocal style, but Torme detested the nickname. As a solo singer, he recorded a number of romantic hits for Decca (1945), and with the Artie Shaw Orchestra on the Musicraft label (1946-48). In 1949, he moved to Capitol Records, where his first record, "Careless Hands," became his only number one hit. His versions of "Again" and "Blue Moon" became signature tunes. His composition "California Suite," prompted by the Gordon Jenkins's "Manhattan Tower," became Capitol's first 12 inch LP. Around this time, he helped pioneer cool jazz.
From 1955 to 1957, Torme recorded 7 jazz vocal albums with Red Clyde's Bethlehem Records, all with groups led by Marty Paich, most notably "Mel Torme with the Marty Paich Dektette.
" These recordings proved a creative peak for Torme and for Paich, a leading figure in the West coast jazz of the time.
When rock & roll music (which Torme called "three chord manure") came on the scene in the 1950s, commercial success became elusive. During the next two decades, Torme often recorded mediocre arrangements of the pop tunes of the day, never staying long with any particular label. He was sometimes forced to make his living by singing in obscure clubs. He had two minor hits, his 1956 recording of "Mountain Greenery," and his 1962 R&B song "Comin' Home, Baby," arranged by Claus Ogerman. The latter recording led the jazz and gospel singer Ethel Waters to say that "Torme is the only white man who sings with the soul of a black man." It was later covered instrumentally by Quincy Jones and Kai Winding.
In 1963–64, Torme wrote songs and musical arrangements for the The Judy Garland Show, and made two guest appearances on the show itself. A few years later, after Garland's death, his time with her show became the subject of his first book, "The Other Side of the Rainbow." Although the book was praised, it led to an unsuccessful lawsuit by Garland's family.
Torme continued to play jazz drums as an adult, and befriended drummer Buddy Rich, who became the subject of his book "Traps-The Drum Wonder-The Life of Buddy Rich." Torme also owned and played a drumset that renowned drummer Gene Krupa had used for many years.
Although a jazz and popular musician, Torme also respected classical music, especially that of Frederick Delius and Percy Grainger.
The resurgence of vocal jazz in the 1970s resulted in another artistically fertile period for Torme, whose live performances during the 1960s and 70s fueled a growing reputation as a jazz singer. He found himself performing as often as 200 times a year around the globe. In 1976, he won an Edison Award (the Dutch equivalent of the Grammy) for best male singer, and a Downbeat award for best male jazz singer. For a number of years around this time, his September appearances at Michael's Pub, on the Upper East Side would unofficially open New York's fall cabaret season.
Tormé viewed his 1977 Carnegie Hall concert with George Shearing and Gerry Mulligan as a turning point. Shearing later said:
"It is impossible to imagine a more compatible musical partner… I humbly put forth that Mel and I had the best musical marriage in many a year. We literally breathed together during our countless performances. As Mel put it, we were two bodies of one musical mind."
Starting in 1982, Torme recorded a number of albums with Concord Records, including:
* Five albums with pianist George Shearing;
* His big band work with Rob McConnell and his Boss Brass orchestra (see Mel Torme, Rob McConnell and the Boss Brass);
* A reunion with Marty Paich, resulting in a live recording in Tokyo (In Concert Tokyo) and a studio album (Reunion).
In the 1980s, he often performed with pianist John Colianni. In the last years of his career he toured and sang with the wonderful George Shearing Quartet, often sitting in at drums, for a number or two in a set. To hear two such accomplished jazz artists was an evening not to be forgotten.
Torme made 9 guest appearances as himself on the 1980s sitcom Night Court whose main character, Judge Harry Stone (played by Harry Anderson), was depicted as an unabashed Tormé fan. In the mid-90s, Torme gained a following among Generation Xers by appearing in a series of Mountain Dew commercials and on an episode of the sitcom Seinfeld, in which he dedicates a song to the character Kramer (played by Michael Richards). Torme also recorded a version of Nat King Cole's "Straighten up and Fly Right" with his son, alternative/adult contemporary/jazz singer Steve March Torme.
In February 1999, Tormé was awarded the Grammy Lifetime Achievement Award. On August 8, 1996, a stroke abruptly ended his 65-year singing career; another stroke in 1999 ended his life. In his eulogistic essay, John Andrews wrote about Tormé: "Tormé's style shared much with that of his idol, Ella Fitzgerald. Both were firmly rooted in the foundation of the swing era, but both seemed able to incorporate bebop innovations to keep their performances sounding fresh and contemporary. Like Sinatra, they sang with perfect diction and brought out the emotional content of the lyrics through subtle alterations of phrasing and harmony. Ballads were characterized by paraphrasing of the original melody which always seemed tasteful, appropriate and respectful to the vision of the songwriter. Unlike Sinatra, both Fitzgerald and Tormé were likely to cut loose during a swinging up-tempo number with several scat choruses, using their voices without words to improvise a solo like a brass or reed instrument."
Tormé wrote more than 250 songs, a number of which became jazz standards. He also often wrote the arrangements for the songs he sang. He often collaborated with Bob Wells, and the best known Tormé-Wells song is "The Christmas Song", often referred to by its opening line "Chestnuts roasting on an open fire." First recorded by Nat King Cole in 1946, it has been a holiday favorite ever since. Tormé said that he wrote the music to the song in only 40 minutes, and that it was not one of his personal favorites.
Source
Top Tracks 1
Comin' Home Baby
2
The Christmas Song
3
Happy Together
4
The Christmas Song (Chestnuts Roasting On An Open Fire)
5
Blue Moon
6
Midnight Swinger 7
Careless Hands
8
Right Now
9
Lullaby of Birdland
10
Strangers in the Night
Top Albums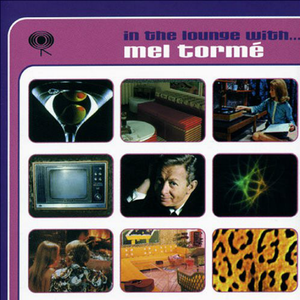 In the Lounge With...
tracks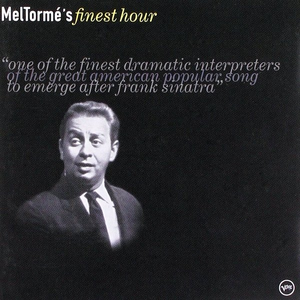 Mel Tormé's Finest Hour
tracks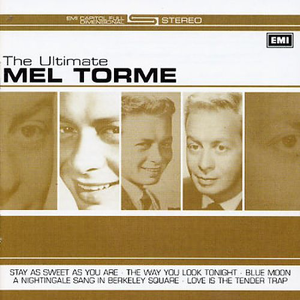 The Ultimate Mel Torme
tracks