| | |
| --- | --- |
| Genre | post-punk, french, Progressive rock, new wave, minimal synth |
Visitors is an Experimental rock band formed in Salt Lake City, Utah in 2013. The release of their second EP, "Blueshift," was met with critical acclaim, and the band began gigging and touring nationally alongside acts such as A Lot Like Birds, Night Verses, Sianvar, HRVRD (formerly Harvard), Finch and others. A full-length record is slated for release in 2015.
Ian Cooperstein - Vocals/Baritone/Lapsteel (also a member of Dustbloom)
Daniel Burt - Guitars
Ian Hilton - Guitars
Cameron Jorgensen - Bass (also a member of Dustbloom)
Bryan Lee - Drums (Also a member of Heartless Breakers)
https://visitorsofficial.bandcamp.com
https://www.facebook.com/VisitorsSLC
Instagram: @VisitorsOfficial
Twitter: @VisitorsSLC
There have also been several artists in the past using the name "Visitors." They are listed below:
1) French progressive 'space rock' band
2) Post-punk band formed in the late 1970's in Edinburgh, Scotland
3) London indie band
4) Austin-based band
5) Swedish duo
6) Electro project by Dutch musician Bertin
1) Visitors were a French progressive 'space rock' band - put together by Jean-Pierre Massiera - who released their self-titled debut album in 1974, preceded by the single Dies Irae, both on the Decca label. The album was produced by Massiera and Claude Limoine who later became a member of new wave space rockers Rockets (also known as Les Rockets) and featured no less than 19 contributing musicians.
Visitors released their second self-titled album in 1981. Slimming down to a five-piece band, they capitalized on the success of 'Rockets', dressing in matching space suits and adapting to a more electronic rock style.
This line up of Visitors was:
Bernard 'Willy' Lignac - Vocals
Rosaire Riccobono - Bass
Patrice Helleringer - Guitar
Zeus B. Held - Synthesizer
Donald Rieubon - Drums
Visitors finally split in 1982.
2) Visitors were a post-punk band formed in the late 1970's in Edinburgh, Scotland. They released 3 singles - Electric Heat (Deep Cut, 1979), Empty Rooms (Departure Music, 1980) and Compatibility/Poet's End (Rational Records, 1981). Visitors also recorded three Peel sessions.
Visitors line up was:
John Mcvay (Keyboards,Vocals)
Colin Craigie (Guitar, Vocals)
Derek Mcvay (Bass,Backing Vocals)
Keith Wilson (Drums,Backing Vocals)
3) Visitors have emerged as one of the most exciting guitar/art pop bands of late 2012. The north London band combine sweeping chords and soaring synth melodies with the occasional spot of witty social commentary in the Great British Tradition (Ray Davies, Jarvis Cocker, Brett Anderson et al).
Formed earlier this year, Visitors are Benjamin Gold on vocals and keys, Ricky Whybrow on guitar, Neil Barrett on bass, Alfie Tammaro on drums.
The band came together via a shared dislike of indie landfill and the idea that guitars and pop music don't have to be mutually exclusive.
Currently working on their debut album, their songs explore suffocating love, self-scrutiny, aspiration and the after life – Hard Fi this is not. Memorable gigs so far include Pikes House in Ibiza for Ibiza Rocks, Proud Camden and Club Fandango.
Visitors debut single 'Oxygen' tells the story of a Jekyll and Hyde Prime Minister and a revolution to free the people from a country that pays to breathe. The video was directed by award-winning duo Row and Jack (Bombay Bicycle Club) and features cinematography from Ali Asad (Prodigy, Nick Cave, Massive Attack).
Ben - keyboards, Lead Vocals
Ricky - Lead Guitar
Alfie - Drums
Neil - Bass
www.visitorsofficial.com
4) Visitors is an Austin-based band. Band members are Louis, Jason, Nicholas, and Dave.
www.visitorskickback.com
Check out www.myspace.com/visitors for upcoming shows.
5) Visitors were a Swedish duo consisting of singer Göran Danielsson and reknown keyboardist Svante Persson, which realeased three albums between 1987 and 1990 and had a string of hits in Sweden, like All of Your Attention, Nothing to Write Home About and Love Like a Mountain. In 1990 they were awarded with a Swedish Grammy for Pop Group Of The Year.
Source
Top Tracks
1
Visitors 2
Electric Heat
3
All Of Your Attention
4
Until You Came Along 5
Tiny Little Engines
6
Flatwoods Story
7
V-I-S-I-T-O-R-S
8
Moth 9
Nothing To Write Home About
10
Dies Irae
Top Albums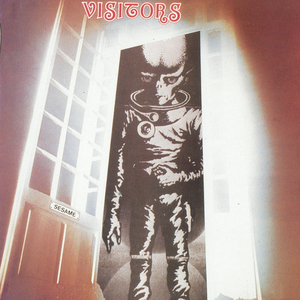 Super Rare Soul, Vol. 2
tracks
Diamanter - 80-Talet
tracks