| | |
| --- | --- |
| Genre | country, classic country, blues, Alt-country, country music |
The Bellamy Brothers started their musical career at the end of the 1960s. In 1968, they had their first official gig, playing a free show with their father at the Rattlesnake Roundup in San Antonio, Florida, USA. They kept playing throughout the South, often with already recognized musicians, such as Percy Sledge, Eddie Floyd and others. A couple of months later, the brothers moved up north, discovering the potentials of rock/country music in Atlanta, Georgia.
During the long road gigs, David Bellamy discovered that he had a talent for songwriting. It was his lyrics that eventually made it possible for the duo to become an international act. This breakout came eventually in form of the hit "Spiders and Snakes," which sold more than three million units and brought the Bellamy Brothers to L.A. music scene.
The duo was very well-known at the time; however, they were not yet famous internationally. That all changed with the crossover single "Let Your Love Flow" in 1976, the song becoming instant smash worldwide. It remained on charts long enough to build an appreciable international fan base, which exists to this date. For example, in Germany the song stayed a number one hit for two months.
Their music gradually became more and more country-like. By the late '70s, another hit followed: "If I Said You Had a Beautiful Body (Would You Hold It Against Me)". Just like "Let Your Love Flow" put them on pop charts a few years earlier, this song did just the same with the country charts.
During the early to mid 1980s, the Bellamy Brothers were among the most dominant duos in country music. In that span, they scored eight No. 1 singles on the Billboard magazine country singles chart, including "Sugar Daddy" and "Dancin' Cowboys" (1980); "Do You Love as Good as You Look" (1981); "For All the Wrong Reasons" and "Redneck Girl" (1982); "When I'm Away From You" (1983); "I Need More of You" (1985); and "Kids of the Baby Boom" (1987). They also shared a No. 1 duet with the Forester Sisters with 1986's "Too Much is Not Enough."
Other important hits in the Bellamys' discography were "You Ain't Just Whistlin' Dixie" (1979); "Lovers Live Longer" (1980); "You're My Favorite Star" (1981); "Reggae Cowboy" (1982); "Strong Weakness" and "I Love Her Mind" (1983); "Forget About Me" and "World's Greatest Lover" (1984); "Old Hippie" and "Lie to You For Your Love" (1985); "Feelin' the Feelin'" (1986); "Crazy From the Heart" (1987); "Santa Fe" and "Rebels Without a Clue" (1988); "Big Love" and "You'll Never Be Sorry" (1989); "I Could Be Persuaded" (1990); and "Cowboy Beat" (1992).
The Bellamy Brothers hold the record in both the Academy of Country Music (ACM) and Country Music Association Awards (CMA) for most duo nominations. Throughout their career, they have released at least two dozen hit songs outside the U.S. that were never released in the United States.
Source
Top Tracks 1
Let Your Love Flow 2
Old Hippie 3
Redneck Girl 4
If I Said You Had a Beautiful Body Would You Hold It Against Me 5
I Need More Of You 6
Let Your Love Flow - Remake '91 7
Do You Love As Good As You Look 8
Dancin' Cowboys 9
Lovers Live Longer 10
If I Said You Had A Beautiful Body
Top Albums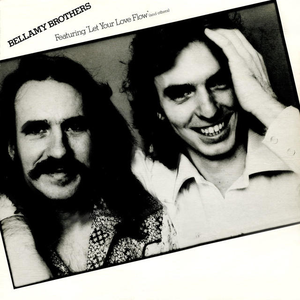 Best Of The Bellamy Brothers
tracks