| | |
| --- | --- |
| Genre | 60s, oldies, Rock and Roll, classic rock, rock |
Chris Montez (born January 17, 1943) is a Mexican-American singer. Initially known as a rock n roll artist, Montez became one of the most important chicano rockers following the tragic passing of Ritchie Valens, his mentor. Montez had a #4 hit in the US with the 1962 single "Let's Dance". Later, he was reinvented as a middle of the road easy listening singer, boasting a slew of Hot 100/Adult Contemporary crossover hits, predominantly renditions of jazz standards such as "The More I See You", "There Will Never Be Another You", and "Time After Time".
Born Ezekiel Christopher Montanez in Los Angeles, California, Montez was brought up in Hawthorne, California. His early musical influences included the latino music played and performed by residents of his neighborhood, as well as Ritchie Valens. After the release of the highly successful "Let's Dance" on Monogram Records, Montez spent several years touring with artists such as Sam Cooke, The Platters, and Smokey Robinson and The Miracles, as well as The Beatles, then relatively unknown outside of Liverpool.
Early in 1963, Montez would score another hit with "Some Kinda Fun". Reaching #43 on the charts, the song utilized the same catchy keyboard instrumentation as did "Let's Dance"; fittingly, both were million sellers, and were awarded gold discs. 1963 also saw the release of Montez's only album on Monogram, Let's Dance and Have Some Kinda' Fun!!!. Shortly before Monogram folded, Montez was paired up with Kathy Young, releasing two singles as the duo Chris & Kathy, most notably surf rock classic "Shoot That Curl". While at Monogram, Montez wrote, or co-wrote, several of his own songs, such as "Chiquita Mia", "Let's Do the Limbo" and "No No No".
Two years later, Montez was practically a non-entity in the music business; however, Herb Alpert, co-founder of A&M Records, cordially invited Montez to resume his recording career at A&M. When Montez attempted to replicate his earlier rock 'n' roll success, however, Alpert personally suggested that Montez try a different approach: a middle of the road, soft ballad sound. While not particularly interested in changing his style of music, Montez decided to trust Alpert's instincts.
"Call Me", a cover version of a Petula Clark song, was the first single from his 1966 album, The More I See You / Call Me, earning Montez his biggest hit in years, eventually reaching #22. The song has since become an easy listening standard. The album's title cut, Montez's second single, was a source of confusion for certain radio disc jockeys who were unfamiliar with Montez' past as a rocker; when back-announcing the song, they would often refer to Montez as being female, likely owing to Montez's falsetto singing style.
This confusion would be cleared up by the time the album, bearing Montez's pictures on the front and back sleeve, was released.
Montez would record three more albums for A&M: Time After Time (1966), Foolin' Around (1967), and Watch What Happens (1968). Although quite stylistically similar to his first hit album on A&M, they failed to mirror its success, although Time After Time's title cut and "Because of You" both managed to crack the Hot 100. In 1968, Montez departed from A&M on a three-year sabbatical. In 1972, Montez released a big hit single in Brazil, "Loco por ti". By this time, he had returned to his rock roots, albeit with more noticeable pop influence than before.
Two years later, now with CBS Records, Montez released The Best of Chris Montez, a compilation consisting of both old and new material, the newer bearing little to no resemblance to his past hits. While at CBS, he released one more album: Raza: Ay no digas, which fared well in international markets but failed to make an impact in the US. In 1983, Montez released his final album, Cartas de Amor, all of its songs being sung in Spanish. Although his recording career appears to be behind him, Montez is still an active musician, performing to mostly foreign audiences.
In 2008, Frozen Pictures announced plans to make a documentary on Montez's life and career, El viaje musical de Ezekiel Montanez: The Chris Montez Story. The film, focusing on Montez's multi-faceted musical career and considerable influence, has been previewed at several film festivals, but has not seen domestic release.
Source
Top Tracks
1
Let's Dance
2
The More I See You 3
Watch What Happens
4
Call Me
5
The Face I Love
6
Sunny
7
Some Kinda Fun
8
Lets Dance
9
Fly Me to the Moon
10
Ay no digas
Top Albums
The Best Rock'n'roll Album In The World ... Ever !
tracks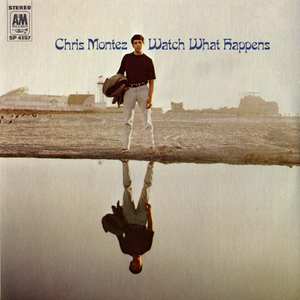 Watch What Happens
tracks