| | |
| --- | --- |
| Genre | swedish, female vocalists, svenskakrusbar, svenska damer, beat girl |
Lill-Babs (Barbro Margareta Svensson, Järvsö, Sweden, 9 March 1938 - 3 April 2018) was a Swedish singer and actress. Lill-Babs was from the 1950s and until her death in 2018 one of Swedens best known singers. She represented Sweden in the Eurovision Song Contest 1961 in Cannes, and was also known for the song "Är du kär i mej ännu Klas-Göran?"
Svensson made her first public performance at "Barnens dag" in Järvsö 1953. Soon after she atarted singing with Lasse Schönnings orchestra. She was "discovered" when she sang in the radioshow "Morgonkvisten in 1954, Simon Brehm liked her and took her to Stockholm were she made her professional singing debut at the restaurant "Bal Palais". She released her first music album in 1954, a grammophone record with two songs Min mammas boogie and Svar till "Ung och kär".
Simon Brehm was Svenssons manager until his death in 1967, it was Brehm who gave Svensson her stage name Lill-Babs a play with words as a connection to the older and at that time much more known singer Alice Babs.
Lill-Babs made her television debut in 1957 and her first folkparksshow with her own name in 1958. She visited every folkpark in Sweden during her years.
In 1959, Lill-Babs performed Stikkan Andersons song "Är du kär i mej ännu Klas-Göran?", the song became a major hit. She made her theater debut in 1958 in the play "Fly mig en greve" at Nöjeskatten theater. She also appeared in the films "Svenska Floyd" and "En nolla för mycket".
Lill-Babs represented Sweden in the Eurovision Song Contest 1961 with the song April, april, the song had been performed by Siw Malmkvist in the national final but Lill-Babs was selected to perform the song in Cannes. She participated in Melodifestivalen three times in 1960, 1961 (her own two songs did not win) and 1973 without winning. She soon after Eurovision launched a career in West Germany, were she acted in several films, she also released two english language solo singles for the United States market.
Lill-Babs met The Beatles in 1963, and they asked her to give them her autograph, the then unknown group was guests at the Swedish television show "Drop-In" at the time. Lill-Babs did several barshows at Berns in Stockholm, Trädgår'n in Gothenburg and Kronprinsen in Malmö. In the 1970s she played revue at Kar de Mumma at Folkan, she also played Annie Oakley in the musical Annie Get Your Gun in Scandinavium, in Gothenburg.
Lill-Babs has presented several TV-shows such as Hemma hos Lill-Babs (1987), Morgonlust (1988), Vem tar vem (1990) and Cocktail (1991) all on SVT.
In 2010, she participated in the TV4 show Så mycket bättre broadcast on TV4. She acted as the character "Gugge" in two season of the SVT series Bonusfamiljen in 2017 and 2018, the series script had to be changed after her death.
A two-part documentary was broadcasted on TV4 in 2017 called Lill-Babs, Leva livet, which told about her life and career.
She was the main guest on Här är ditt liv on 26 December 1983, where the presenter Lasse Holmqvist presented her with a long row of her ex-boyfriends which surprised her in the studio.
She was married to the singer Lars Berghagen 1965–1968. She was then married to goalkeeper Kjell Kaspersen 1969–1973. She was the mother to three daughter Monica Svensson (born 1955), Malin Berghagen (born1966) and Kristin Kaspersen (born 1969).
She has released the autobiography Hon är jag (1996).
In 2017, she was inducted into the Swedish Music Hall of Fame.
Lill-Babs died on 3 April 2018 after suffering from cancer and heart failure.
Source
Top Tracks
1
Leva livet 2
Så Klart!
3
Gröna, granna, sköna, sanna sommar
4
En tuff brud i lyxförpackning
5
Är du kär i mej ännu, Klas-Göran?
6
Itsy Bitsy Teenie Weenie Yellow Polka Dot Bikini 7
Huvudet högt
8
April, april
9
Vi får vingar när vi älskar
10
Välkommen till världen
Top Albums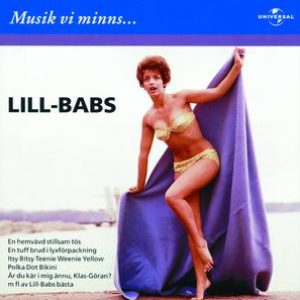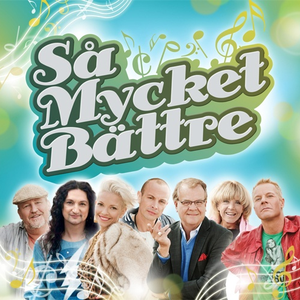 Så mycket bättre - Musiken från TV-programmet
tracks