| | |
| --- | --- |
| Genre | 80s, rock, pop, austrian, One-Hit-Wonder |
There are multiple artists with this name:
1) Opus is an Austrian pop-rock group which was formed in 1973. In 1984 they released "Live Is Life" which topped the charts in many countries, and a live recording of the song even made the Top 40 in the USA in 1986. It remains popular as a sing-along song for crowds at sports events in Europe. A cover version was also performed by the Slovenian band, Laibach.
Opus is still active, but have not enjoyed the same success since "Live Is Life", and are generally considered a one-hit wonder. They also had success with some other songs in Austria, Germany and Switzerland, but not in "non-German-speaking" countries.
The Finnish ice hockey team, Tappara has the song "Live Is Life" as it's goal song.
2) Opus were a Yugoslavian progressive rock band from Belgrade which released their only album entitled Opus I in 1975
3) Opus are also an unsigned English Heavy Melodic Instrumental band which formed in 2000. Opus formed in early 2001 and debuted a year later with their 6 track (non-instrumental) EP "Questions". After a year and a half of touring in and around London and supporting bands such as The Datsuns, Kid Galahad and The blueprint OPUS decided to perform an instrumental one off show in their local area Frimley. Much of their set was improvised and the band played their set with total belief in what they were doing that night. From that day OPUS have only ever performed instrumental sets and in 2004 went on to record their self-titled 30 minute, one song EP "OPUS", released by themselves. They have since gone on to develop their distinctive style of heavy, yet melodic instrumentation and have been working to create exciting new material for their latest record "sample aura" . OPUS are very much into heavy music and like to combine this with subtle, softer melodies to create warm and chaotic moods throughout the 30 minute pieces. Their influences can be found in artists such as Tool, Mogwai and King Crimson. "sample aura" is the bands 3rd studio EP and was released on 10th March 2006. They went on to record a free downloadable track called 'Antipathy', available here http://www.opusband.com for High Quality. Or here - http://www.myspace.com/opusinstrumental for low quality.
3) Opus is The Martin County High School nationally renown concert choir. Located out of Stuart, FL. It has been under the direction of Ronald L. Corbin for 26 years. Over the years, OPUS has performed and won top honors all over the country. Most recently sweeping competitions in Chicago, Honolulu, London, and Seattle. The choir is based out of Stuart from Martin County High School.
4) Opus is a Romanian grundge,stoner(with hardcore and punk-rock influences) band, which formed in 2001.
5) Opus were a Yugoslavian progressive rock band formed in 1973. The members included Miodrag Okrugić on keyboards, Dušan Prelević on vocals, Slobodan Orlić/Dušan Ćućuz on bass, Ljubomir Jerković on drums and a variety of guitar players. They released one LP (titled 'Opus 1') in 1975 and disbanded two years later.
6) Opus ITS ALL ABOUT MUSIC creative work, especially a musical composition numbered to designate the order of a composer's works. Opus formed in 2008. Opus is is from Bangladesh, & they are progressive heavy metalBangladeshi band. So far They released two singles in two compilations 'KOBI' & 'BIJOY MICHIL'. Including members Raisul Hasan (Vox), Poneer VAI aka M.K. Khan Majlish (Guitars), Elahi aka Fazly Elahi (Guitars), Piklu Bhai-ex aurthohin (As Guest/Guitars), Sanjay (Bass), Rafee (Drums) http://www.myspace.com/opusbd Myspace
http://www.facebook.com/opusbd Facebook
Source
Top Tracks
1
Live Is Life
2
Life Is Life
3
Live Is Life (digitally remastered) - Single Version
4
Live Is Life (digitally remastered) (Single Version)
5
Live Is Life - Live
6
Live Is Life 2008 - Rock Version
7
Live is Life 97
8
Life Is Live
9
Live Is Life (digitally remastered)
10
Live is live
Top Albums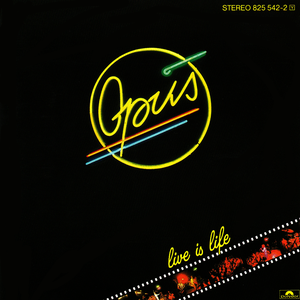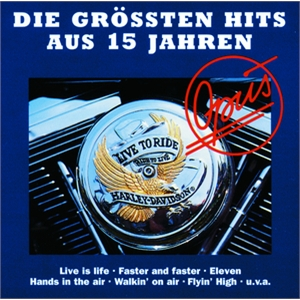 Die grössten Hits aus 15 Jahren
tracks