| | |
| --- | --- |
| Genre | oldies, 60s, swing, pop, country |
Charles Eugene Patrick Boone (known as Pat Boone) (born June 1, 1934) is a singer whose smooth style made him a popular performer of the 1950s. His cover versions of African-American rhythm and blues hits had a noticeable effect on the development of the broad popularity of rock and roll. He is also an actor, a motivational speaker, a television personality, and a conservative political commentator.
Born in Jacksonville, Florida, USA, Boone is a direct descendant of the American pioneer Daniel Boone. He grew up in Nashville, Tennessee, attended David Lipscomb College and began recording in 1954 for Republic Records. His 1955 version of "Ain't That a Shame" was a huge hit, selling far better than Fats Domino's original version. This set the stage for the early part of Boone's career, which focused on covering R&B songs by black artists for a white market. Previously, rock 'n' roll had had only limited exposure outside of the African American community. Pat Boone's pale covers gave attention to the more authentic original artists, such as Little Richard and Fats Domino and to rhythm and blues in general. In addition, the songwriters and copyright holders benefited even when individual artists did not.
In fact, only six of Boone's many hit singles were R&B covers, and only four of those were rockers. All were released in the first two years of his long career. These were "Ain't That a Shame" by Fats Domino and "Tutti Frutti" and "Long Tall Sally" by Little Richard, and "At My Front Door (Crazy Little Mama)" by the El Dorados. The other two R&B covers were well-chosen blues ballads, "I Almost Lost My Mind" by Ivory Joe Hunter and "Chains of Love," a hit for Big Joe Turner and later B.B. King that had been written by Ahmet Ertegun. By 1957, Boone was concentrating on the middle-of-the-road music that dominated his career. He never recorded another R&B cover.
Known as "The Kid in White Buck Shoes", Boone sported a clean-cut image that appealed to white ] and parents. His singing style, a rich baritone, followed in the tradition of his idol, Bing Crosby. Preferring to carry on in the Crosby tradition, he soon began turning more and more to ballads. Some of his biggest hits included "Love Letters in the Sand" (with the instrumental break featuring Boone's whistling), "April Love", "Friendly Persuasion (Thee I Love)", and "Don't Forbid Me".
His teen idol popularity in the late 1950s was second only to that of Elvis Presley, and, like Presley, he soon tried his hand at acting. Boone's pictures included 1960's Journey to the Center of the Earth alongside Hollywood notable James Mason.
His recording of the theme song from the 1957 film April Love topped the charts for six weeks and was nominated for an Academy Award.
Pat also wrote the theme song for the movie Exodus.
A devout born-again Christian, he was raised in the conservative Church of Christ, but has been a member of a Pentecostal church for more than thirty years. Boone has refused both songs and movie roles that he felt might compromise his standards, including a role opposite the decade's reigning sex symbol, Marilyn Monroe. Among his other achievements, he hosted a TV series in the late 1950s and began writing in the early 1960s, a series of self-help books for adolescents, including Twixt Twelve and Twenty.
The British Invasion effectively ended Boone's career as a hitmaker, though he continued recording throughout the 1960s. In the 1970s, he switched to gospel and country, and he continued performing in other media as well, most importantly radio. He is currently working as the disc jockey of a popular oldies radio show and runs his own record company which provides a much-welcomed outlet for new recordings by 1950s greats who can no longer find a place with the major labels.
Boone married Shirley Lee Foley, daughter of country music great Red Foley and singer Judy Martin, in 1953 and they had four daughters: Cherry, Lindy, Debby, and Laury. In the 1960s and 1970s the Boone family toured as gospel singers and made gospel albums, such as The Pat Boone Family and The Family Who Prays.
In the early 1990s, Boone joined Amway and spoke at many motivational seminars. He was also a distributor. He never reached the coveted Amway rank of Diamond.
In 1997, Boone released In a Metal Mood: No More Mr. Nice Guy, a collection of heavy metal covers revamped to fit his style. To promote the album, he appeared at the American Music Awards in black leather, shocking audiences and losing his respectability among his largest constituency, conservative Christians. He was then fired from Gospel America, a TV show on the Trinity Broadcasting Network. About a year later, the controversy died down and many fans, including Jack Hayford, accepted his explanation of the leather outfit being a "parody of himself". He was re-hired by Trinity Broadcasting and Gospel America was brought back.
In 2003, the Gospel Music Association of Nashville, Tennessee recognized his gospel recording work by inducting him into its Gospel Music Hall of Fame.
Boone and his wife live in Los Angeles, California. They are members of The Church on the Way in Los Angeles's San Fernando Valley. His one-time neighbor was Ozzy Osbourne and his family. Boone's cover of Osborne's song "Crazy Train" became the theme song for The Osbornes. (It appears on The Osbornes Soundrack.) Osborne said that Boone "never complained once" about living next door to his less-than-traditional family.
Boone once claimed to use his own surname in lieu of curse words when upset.
In 2006, Boone penned an article for WorldNetDaily in which he argued that Democrats and others who are against the Iraq War cannot, under any circumstances, be considered patriotic. He also recently was interviewed by Neil Cavuto on Fox News, where he expressed his outrage against the opponents of George W. Bush (namely the Dixie Chicks) that their criticisms of the President showed they did not "respect their elders". Another article defended Mel Gibson after the actor was recorded making an anti-Semitic rant. Despite their differing political views, Pat Boone is friends with the Reverend Jesse Jackson.
Source
Top Tracks
1
Speedy Gonzales
2
Love Letters in the Sand
3
April Love
4
Moody River 5
I'll Be Home
6
Ain't That A Shame
7
Enter Sandman
8
Don't Forbid Me
9
Tutti Frutti
10
Crazy Train
Top Albums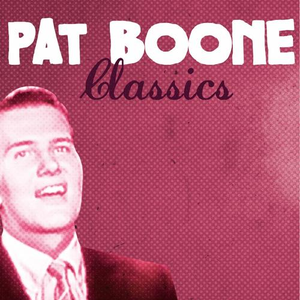 16 Golden Classics
tracks