| | |
| --- | --- |
| Genre | comedy, humour, spoken word, funny, british |
Richard Henry "Peter" Sellers, CBE (8 September 1925 – 24 July 1980) was an English comedian, actor, and performer, who came to prominence on the BBC radio series The Goon Show and later became a film star. He is regarded by many as one of the best actors of his generation.
Sellers was born in Southsea, Portsmouth, England, to a family of entertainers. Despite his real name being Richard Henry Sellers, his parents called him "Peter" from an early age, in memory of his older still-born brother of that name. He attended a Roman Catholic school, although his father Bill was Protestant and his mother Agnes ("Peg") was Jewish.
Probably following his family in the variety circuit, Sellers learnt this popular yet difficult art and the immediate instinct of the "gag". He was an incredibly versatile artist: an excellent dancer, a drummer good enough to tour with several jazz bands (an excellent clip of him drumming exists when he was a guest on the Steve Allen show in 1964), and a skillful player of the ukulele and banjo (family legend has it that Sellers' father actually taught George Formby to play the ukulele). He is known to have performed at the Windmill Theatre.
During World War II, Sellers was an airman in the Royal Air Force, rising to corporal by the end of the war. During his leisure periods, he did impersonations of his superiors. This helped Sellers in his later film Dr. Strangelove.
His success was quite slow in coming. He phoned up a television producer pretending to be Kenneth Horne, who was currently in the show Much Binding in the Marsh, in order to get them to speak to him. Success came as one of the Goons on the radio programme The Goon Show with fellow comedians Spike Milligan, Harry Secombe and Michael Bentine and was followed by early television work.
Sellers' first film successes were in British comedies, including The Ladykillers (1955), I'm All Right Jack (1959) and The Mouse That Roared (1959). On the international scene, in 1962 he portrayed an Indian doctor in The Road to Hong Kong, the seventh and last in the Bing Crosby/Bob Hope/Dorothy Lamour "Road" series.
Sellers was launched internationally with the hit The Millionairess (1960). He was in Stanley Kubrick's Lolita in which he played Clare Quilty. After Stanley Kubrick decided to make his next film Dr. Strangelove a comedy, Columbia Pictures insisted on Sellers being cast. In Stanley Kubrick's Dr. Strangelove or: How I Learned to Stop Worrying and Love the Bomb (1964) he notably played a triple role, comprising U.S. President Merkin Muffley, Dr. Strangelove, and Group Captain Lionel Mandrake of the RAF (the first two appearing in the same room throughout the film). Sellers was also originally cast in the role of Major T. J. 'King' Kong. At first, he had trouble perfecting a Southern accent, but a member of the crew made a recording of a Texan accent and Sellers was able to master it.
However, during a scene, Sellers fell 15 feet from a cockpit and broke his leg preventing him from climbing in and out of the cockpit so Kubrick replaced Sellers with Slim Pickens.
Preceding his roles in Dr. Strangelove, Sellers is most famous for his role as the bumbling Inspector Clouseau in the Pink Panther movies, which gave him a worldwide audience, first in The Pink Panther in 1963 and then its sequel A Shot in the Dark in 1964. He returned to the character for three more sequels from 1975 to 1978. The Trail of the Pink Panther was released after his death in 1982, containing previously unused footage of Sellers. His widow Lynne Frederick later successfully sued the film's producers.
He was a remarkably versatile actor, switching easily from broad comedy as in The Party (1968), to more intense performances, as in Lolita, where he played Clare Quilty, the nemesis of the film's (and novel's) principal protagonist, Humbert Humbert.
Sellers' career had slumped by the early 1970s (he was dubbed "box office poison"), but, after reviving the Clouseau character, he was able to produce his cherished project Being There in 1979, winning his best reviews since the 1960s. This brought him his second Academy Award nomination. He was unsuccessful on both occasions, although he did win a Golden Globe for Being There and a British Academy Award (BAFTA) for I'm All Right Jack. With Sophia Loren Sellers also recorded the top 10 UK single, Goodness Gracious Me.
Commonly considered a master actor and sometimes described as an "obsessive perfectionist", Sellers found in Blake Edwards a devoted director who could delicately underline and follow his comic rhythms. Edwards defined Sellers as a "mercurial clown" who could turn comedy into drama, and vice-versa, in an instant. He could also be cruel, as he demonstrated in his treatment of actress Jo Van Fleet on the set of I Love You, Alice B. Toklas (1968), when she made a slight faux pas and offended him.
Sellers had casual friendships with two of the Beatles, George Harrison and Ringo Starr. Harrison told occasional Sellers' stories in interviews, and Starr appeared with him in the anarchic movie The Magic Christian (1970), whose theme song was Badfinger's cover version of Paul McCartney's "Come and Get It". Starr also gave Sellers a rough mix of songs from the Beatles' White Album, and the tape was auctioned (and bootlegged) after his death.
Sellers was also a close friend of Princess Margaret. He loved cars: he was believed to have owned and sold many different models by the 1960s. This was briefly parodied in a fleeting cameo in the short film Simon Simon, which was directed by his friend Graham Stark. It was also mentioned in the The Goon Show episode "The Space Age", where Harry Secombe introduces Sellers with the comment: "Good Heavens, it's Peter Sellers, who has just broken his own record of keeping a car for more than a month".
Sellers was the first man to appear on the cover of Playboy — he appeared on the April (1964) cover with Karen Lynn.
Sellers played ukulele-banjo on the New York Girls track for Steeleye Span's 1975 album, Commoner's Crown.
Much of Sellers' genius however was greatly marred by his personal life. Sellers could be a difficult person. He was extremely eccentric and hurt many people throughout his life, including his first three wives. For instance he told his eldest child that his first wife was having an affair with the decorator when the child was only 8. No such affair was ever going on. When his second wife Britt Ekland brought their child onto the set of one of the films they starred in together he would often go into a rage and demand the child be taken off set. During a speech on the day of the release of one of his films with director and friend Blake Edwards he publicly attacked Edwards. After the death of his mother Sellers would often hit Ekland. He also often sniffed alkyl nitrites.
In 1964 at the age of 39, Sellers had suffered a near-fatal heart attack. This seriously damaged his heart and affected his health for the rest of his life. He also wore a pacemaker which caused him considerable problems.
A reunion dinner was scheduled to take place in London with Goon Show partners Spike Milligan and Harry Secombe in the latter part of July, 1980. This reunion never took place: on 22 July Sellers suffered a massive heart attack and collapsed in his London Dorchester hotel room. He died 36 hours later in a London hospital just after midnight on 24 July 1980, at the age 54.
Source
Top Tracks 1
A Hard Day's Night
2
She Loves You
3
Goodness Gracious Me
4
Any Old Iron
5
Can't Buy Me Love
6
Unchained Melody
7
Bangers And Mash
8
All the Things You Are 9
A Hard Days Night
10
In A Free State
Top Albums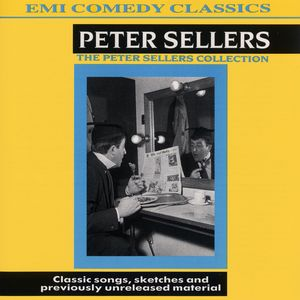 The Peter Sellers Collection
tracks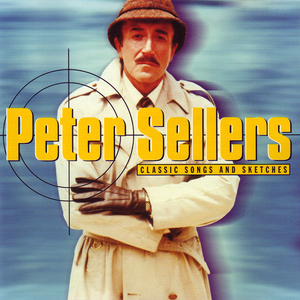 Classic Songs and Sketches
tracks