| | |
| --- | --- |
| Genre | rockabilly, oldies, 60s, classic rock, rock |
Eric Hilliard "Ricky" Nelson, later known as Rick Nelson (May 8, 1940 –December 31, 1985), was an American singer, musician, and Golden Globe-nominated actor. With more than 50 Hot 100 hits, Nelson was second only to Elvis Presley as the most popular rock and roll artist of the 1950s and 1960s.
Biography
Early years
Born in Teaneck, New Jersey, he was the younger son of Ozzie Nelson, the leader of a big band, and Harriet Hilliard Nelson, the band's singer. Along with brother David Nelson, the family starred in the long-running radio and television series The Adventures of Ozzie and Harriet from 1944 to 1954 on the radio, and 1952 to 1966 on television. However, David and Ricky Nelson did not join the cast until 1949; for the first five years of the radio show, the sons were played by professional actors.
Career
Ricky Nelson, who was the first teen idol to utilize television to promote hit records, began a rock and roll music career in 1957. He recorded his debut single, the Fats Domino song "I'm Walkin'", seeking to impress a date who was an Elvis Presley fan. After he performed it on TV, it was a hit, reaching #4 on the charts and selling over a million copies. Soon, each episode of the Ozzie & Harriet television show ended with a musical performance by "Ricky". It was during the sitcom's run that Ozzie Nelson, either to keep his son's fans tuned in or as an affirmation of his reputed behind-the-scenes persona as a controlling personality, kept Ricky from appearing on other TV shows that could have enhanced his public profile, American Bandstand and The Ed Sullivan Show in particular. Ironically, Rick finally did appear on the Sullivan show in 1967, but his career by that time was in limbo. Rick also appeared on other TV shows (usually in acting roles). In 1977, he guest-hosted on Saturday Night Live, where he proved to be a good sport in spoofing his TV sitcom image by appearing in a Twilight Zone send-up, where, always trying to go "home", he'd find himself among the characters from other 1950s/early '60s-era sitcoms, Leave It to Beaver, Father Knows Best and Make Room for Daddy.
Nelson knew and loved music, and was a credible performer before he became a teen idol, largely due to his parents' musical background. In addition to guitar, he played drums and the clarinet. (He showcased his drum skills in the same episode where he made his singing debut.) Unlike many teen idols of the time, Nelson showed his personal taste in working with strong musicians, including James Burton, Joe Maphis, The Jordanaires and Johnny and Dorsey Burnette. While Elvis may have served as the catalyst for Rick's musical career, his real inspiration came from none other than Carl Perkins.

One of Ricky Nelson's best-selling singles, "Hello Mary Lou" / "Travelin' Man"From 1957 to 1962, Nelson had thirty Top-40 hits, more than any other artist at the time except Presley (who had 53) and Pat Boone (38).
Many of Nelson's early records were double hits with both the A and B sides hitting the Billboard charts. When Billboard introduced the Hot 100 chart on August 4, 1958, Nelson's single "Poor Little Fool" became the first song ever in the #1 position on that chart.
While Nelson preferred rockabilly and uptempo rock songs like "Hello Mary Lou", "It's Late", "Stood Up" and "Be-Bop Baby", his smooth, calm voice made him a natural to sing ballads. He had major success with "Travelin' Man", "Poor Little Fool", "Young World", "Lonesome Town" and "Teenage Idol", which clearly could have been about Nelson himself. (It was Life magazine that reputedly coined the phrase "teen idol" in an article it did about Nelson in 1959).
In addition to his recording career, Nelson appeared in movies, including the Howard Hawks western classic Rio Bravo with John Wayne and Dean Martin (1959), plus The Wackiest Ship In the Army (1960) and Love and Kisses (1965).
On May 8, 1961 (his 21st birthday), the singer officially changed his recording name from "Ricky Nelson" to "Rick Nelson". However, not too long before his untimely death, Rick realized a dream of his. He met his idol, Carl Perkins, who, while musing that they were the last of the "rockabilly breed", addressed Nelson as "Ricky". As the story goes, Nelson felt somehow validated by Perkins calling him by the name he stopped using at age 21. He contacted his manager, instructing him to restore the "y" to his name.
In 1963, Nelson signed a 20-year contract with Decca Records. After some early successes with the label, most notably 1964's "For You", Nelson's chart career came to a dramatic halt in the wake of The British Invasion.
In the mid-1960s, Nelson began to move towards country music, becoming a pioneer in the country-rock genre. He was one of the early influences of the so-called "California Sound" (which would include singers like Jackson Browne and Linda Ronstadt and bands like The Eagles). Yet Nelson himself did not reach the Top 40 again until 1970, when he recorded Bob Dylan's "She Belongs to Me" with the Stone Canyon Band.
In 1972, Nelson reached the Top 40 one last time with "Garden Party", a song he wrote in disgust after a Madison Square Garden audience booed him when he tried playing new songs instead of just his old hits. "Garden Party" reached #6 on the Billboard Hot 100 and #1 on the Billboard Adult Contemporary chart and was certified as a gold single. (Coincidentally, "Garden Party" was a hit at the same time Elvis Presley was having his last Top-10 single, "Burning Love", as was Chuck Berry with "My Ding-a-Ling". Both are among the musicians alluded to in the lyrics of "Garden Party".)
Marriage, family, and troubles
Nelson married Kristin Harmon in April 1963, in what Life referred to as "The Wedding of the Year". Harmon is the daughter of Football All-American University of Michigan football legend and Heisman Trophy winner Tom Harmon and actress Elyse Knox, and is the older sister of movie and television star Mark Harmon, perhaps known best for the hit series NCIS.
The couple had one daughter, Tracy (born October 25, 1963), twin sons Gunnar and Matthew (born September 20, 1967), and a third son, Sam Nelson (born August 29, 1974).
After "Garden Party", Ricky Nelson never regained his career's momentum. By the late 1970s, his life was in shambles and he was heavily in debt. After a highly tumultuous marriage (the antithesis of what the public had seen on Ozzie and Harriet and in Love and Kisses), Kristin filed for divorce and took their four children. He wasn't making records and when he played live at all, it was in very small insignificant venues. Nelson began using drugs, especially marijuana and eventually cocaine.
Death
In 1985, Nelson joined a nostalgia rock tour of England. It was a major success, and it revived some interest in his work. He tried to duplicate that effect in the United States, and he began a tour of the South. While on that tour, on his way to a New Year's Eve concert in Dallas, Texas, he died in a plane crash in De Kalb, Texas. Nelson was buried in the Forest Lawn, Hollywood Hills Cemetery in Los Angeles, California. The last song he sang on stage before his death was Buddy Holly's "Rave On". Holly had also perished in a plane crash.
Crash
Rumors that drug use among the passengers caused the crash frequently resurface, but the original NTSB investigation long ago stated that the crash was probably due to mechanical problems. The pilots attempted to land in a field after smoke filled the cabin. An examination indicated that a fire originated in the right hand side of the aft cabin area at or near the floor line. The passengers were killed when the aircraft struck obstacles during the forced landing; the pilots were able to escape through the cockpit windows and survived. The ignition and fuel sources of the fire could not be determined, although many believe that the most likely cause was a defective cabin heater. The pilot indicated that the crew tried to turn on the cabin heater repeatedly shortly before the fire occurred, but that it failed to respond. After the fire, the access panel to the heater compartment was found unlatched. The theory is supported by records that showed that DC-3s in general, and this aircraft in particular, had a previous history of problems with the cabin heaters.
Tributes
Nelson was elected to the Rock and Roll Hall of Fame in 1987, and also to the Rockabilly Hall of Fame. He has a star on the Hollywood Walk of Fame at 1515 Vine Street.
Nelson's twin sons, Gunnar and Matthew Nelson, also were teen idols, performing as the band Nelson and charting several hits in the 1990s. His daughter, Tracy Nelson, is an actress and a cancer survivor. She may be best known for her role in the television series Father Dowling Mysteries which starred Tom Bosley. Nelson's youngest son, Sam Nelson, is a music industry executive.
In commemoration of the 20th anniversary of Ricky Nelson's passing, PBS aired a one hour documentary entitled Ricky Nelson Sings featuring interviews with his children, as well as James Burton and Kris Kristofferson. The only time Kristofferson played with Nelson was in Elroy, Wisconsin at a "Party in the Park" show on July 3, 1985. That performance has since been released on DVD.
The American psychobilly band The Cramps dedicated their 1986 album A Date With Elvis to the memory of Ricky Nelson, as written on the album's back cover before the credits.
The song "Ricky" (originally titled "Ricky Nelson"), track 4 on John Frusciante's 2004 album Shadows Collide with People, is a tribute to Nelson, and is sung in a similar style.
Bob Dylan, in his 2004 memoir, "Chronicles, Vol. 1", wrote about Nelson's influence on his music. Also in 2004, Rolling Stone ranked Nelson #91 on their list of the 100 Greatest Artists of All Time.
On December 27, 2005, EMI Music released an album titled Ricky Nelson's Greatest Hits, with 25 songs. It peaked at #56 on the Billboard 200 album chart.
In Stephen King's short-story collection Nightmares & Dreamscapes, Nelson appears in "You Know They Got a Hell of a Band" as an evil version of himself, who torments an unsuspecting couple trapped in a town inhabited by late rock 'n' roll legends. Nelson was portrayed by William McNamara in the 2006 television mini-series adaptation, Nightmares and Dreamscapes: From the Stories of Stephen King.
Nelson's estate is run as The Rick Nelson Company, LLC, and owns ancillary rights to the classic Ozzie and Harriet television series. As of 2007, after years of public domain video releases on VHS and DVD, an official edition of the show has been released via Shout! Factory.
Source
Top Tracks 1
Lonesome Town 2
Travelin' Man - Remastered 3
Lonesome Town - 1990 Digital Remaster 4
Travelin' Man 5
Poor Little Fool 6
A Teenager's Romance 7
Hello Mary Lou (Goodbye Heart) 8
Hello Mary Lou 9
Garden Party 10
I Will Follow You
Top Albums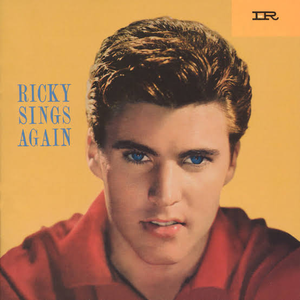 Ricky Sings Again (Expanded Edition / Remastered)
tracks
Ricky Nelson's Greatest Hits Revisited
tracks